T.B. Scott Free Library has reopened
T.B. Scott Free Library has reopened with a limited capacity.
More details
Expanded services include:
Browsing the shelves for materials will be allowed but social gatherings continue to be prohibited.
Computers are available without an appointment.
Tax forms are available in the lobby.  A public copier is available on the third floor.
Library programs and events remain virtual.
Meeting rooms are available for small groups of up to 20 and tables and chairs are spaced for physical distancing.
Masks are required for everyone ages 2 and older and children under the age of 16 must be accompanied by an adult.
A limited number of disposable masks are available if needed.
Curbside service is still available.  Patrons are asked to schedule an appointment at 715-536-7191.
Cleaning protocols of public use areas are in place.
Hours of service:
Monday, Tuesday and Thursday 10am to 6pm
Wednesday, Friday and Saturday 10am to 1pm
We are encouraging our patrons to use our website and the tools and resources available there, including eBooks and eAudiobooks, streaming video, digital learning tools, and more through the Wisconsin Digital Library.
Curbside Pickup Services
T.B. Scott Free Library is providing contactless, curbside pickup of materials by appointment. Staff members are taking precautions by wearing masks at all times while handling your requested materials. To maintain social distancing, staff cannot accept in-person returns. Please return materials to the outdoor book drops.
Curbside Pickup
Place your holds: Call 715-536-7191 to request materials or place holds through our online catalog for items available. Phones will be staffed Monday, Tuesday and Thursday from 10am to 6pm and Wednesday, Friday and Saturday from 10am to 1pm. After hours messages will be returned the next working day.
Schedule a time for pickup: Call 715-536-7191 to arrange an appointment for pickup.  Upon scheduling, we will need a description of your vehicle.
Pickup: Park near the entrance at the library at your appointment time. Alternate arrangements will be made if you don't have a vehicle.  Please remain in your vehicle, a staff member will be awaiting your arrival at the designated time.  If you have a cell phone, you may call us at 715-536-7191 to notify us that you have arrived.
Collect your items: When you arrive at your appointment time, a staff member will bring out your checked-out materials. With your window closed, we ask that you or whomever is picking up your materials present the library card in the window of the vehicle to verify that we are giving the requested materials to the correct person. We will then place the bag of materials in front of your stall. Or if you'd prefer, you may open your trunk and we can place your items there. In this way, we are ensuring social distancing.
Due date(s): Each curbside check-out of library materials includes a check-out slip with due dates for each item. Lost the slip? Patrons may also check when their materials are due by signing-in to their V-Cat library accounts.
Once materials are returned, they will be quarantined for at least 24 hours.
Thank you for your patience and understanding as we begin to provide services in a new way that is safe for everyone. Wait times may be longer than usual, and you may occasionally need to leave a message while we are helping other patrons. We will return your call as soon as possible.
We look forward to seeing you at a safe distance soon!
Note: If you are sick, please stay home. Do not come to the library to pick up your materials.
​
Hours:
Monday, Tuesday & Thursday: 10:00 am – 6:00 pm
Wednesday, Friday & Saturday: 10:00 am – 1:00 pm
In 2021, T.B. Scott Library will be closed:
January 1st, April 4th, May 31st, July 5th, September 6th, November 24th at 5:00 pm, November 25th, 26th, December 23rd, 24th, 25th, and December 31st at 5:00PM.  The Library remains open Good Friday afternoon.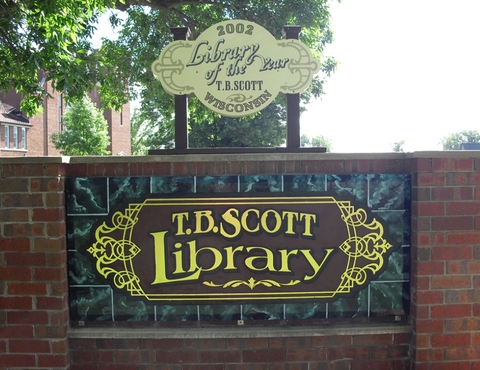 Directions
T. B. Scott Free Library
106 West First Street
Merrill, WI 54452